Coldest Night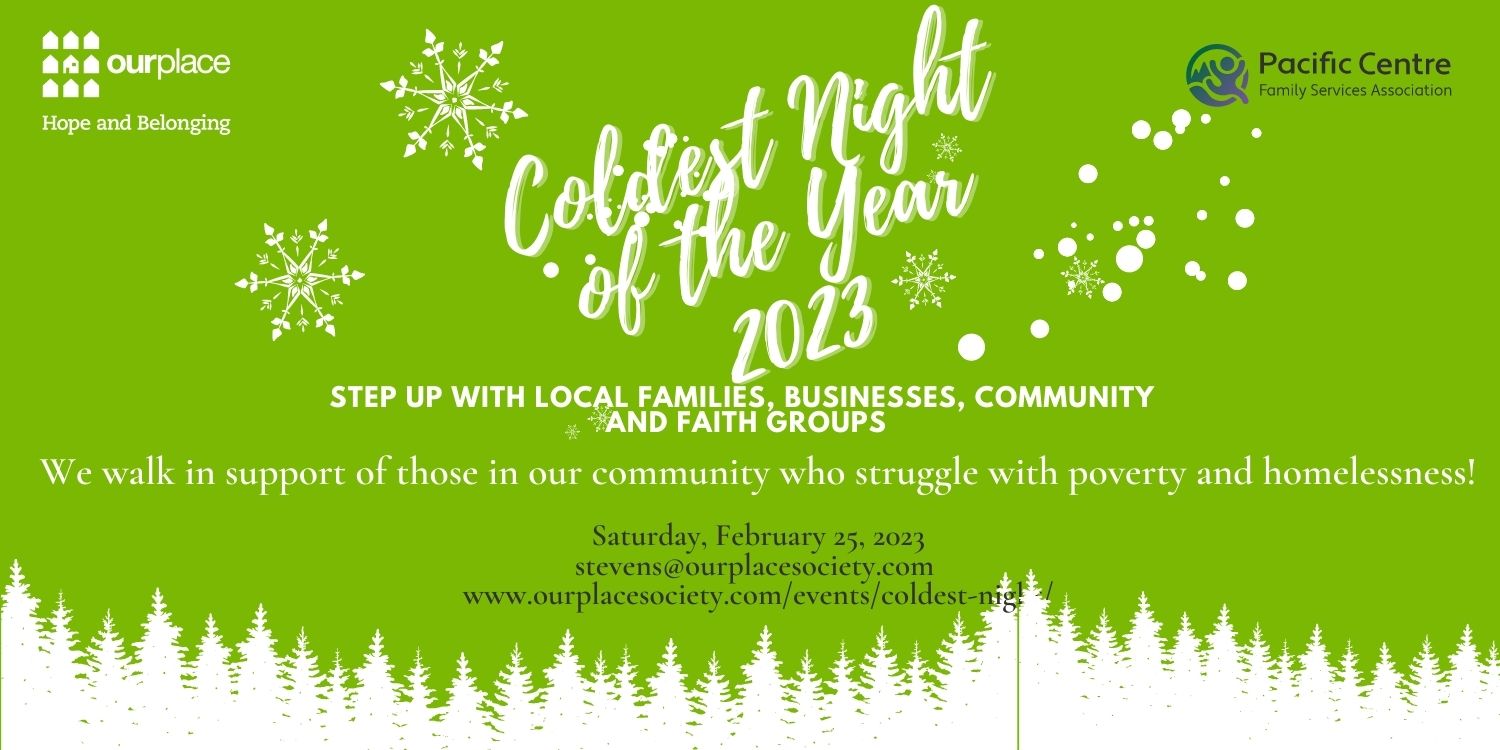 Coldest Night
You Can Take a Big Step for our Neighbours in Need.

Save the date: We are excited to announce that Our Place will be participating in the 2023 Coldest Night walkathon on Saturday, February 25. We are also excited to announce that the partnership with pacific Centre Family Services Assn. in the WestShore will continue!
Please note, online registration is now open!
For the Victoria walk, click here.
For the WestShore walk, click here.
If you would like to join our organizing committee or would like more information, please email us at stevens@ourplacesociety.com.
Sponsorships are now available for both walk locations.
Special thanks to:
Starbucks who will be providing warm beverages to participants of both walks
F45 Training who will lead warmups at both walks
Coke who will provide beverages at the downtown walk
Big Wheel Burger who will donate $10 gift cards to everyone who raises at least $20 for the Coldest Night walk.
Where will the money go: 
Money raised from the downtown walk helps extend the hours of Our Place's 919 Pandora community centre; allowing us to be open from 6:30am to 8:30pm. This means more programming, increased access to showers, computers, and more one to one contact with Outreach workers, housing advocates…
WestShore: Pacific Centre Family Services Association will be directing this year's Coldest night funds back into core programs to reduce wait times that continue to grow as a result of rapid population growth in our community. At Our Place, the money raised will go towards arts programming and arts therapy for the residents of our New Roads Therapeutic Recovery Community, located in View Royal.
Stay tuned for information about this year's Toque Tosses. We will be hosting one in the WestShore on Wednesday, February 22 from 5-7. Ed and Jeff from CHEK News' Upside will be joining us once again to toss those toques to CNOY participants. Come say hi. Ed has been working on his toquetosserie during the off season.
We will also have a downtown toque toss on Thursday, February 23, 4:30-5:30pm at First Met United Church  – on Caledonia.
We will also have info. about Coldest night at the Victoria Royals games on February 20 and 21. Bring your old Coldest night toques!
https://www.ourplacesociety.com/wp-content/uploads/2021/11/CNOY-banner-for-BWB.jpg
750
1500
Grant McKenzie
https://www.ourplacesociety.com/wp-content/uploads/2021/01/our-place-logo-green-bg.svg
Grant McKenzie
2021-11-10 23:20:59
2023-02-10 13:21:52
Coldest Night