Dakota's story
Recovery in a time of pandemic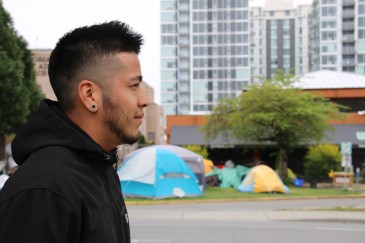 When the coronavirus pandemic first hit, Dakota Johnny thought about going back to his old life of using crystal meth.
When he was younger, Johnny – who has been in recovery for 14 months — says he struggled with germaphobia, and as concerns around COVID-19 intensified, he found himself becoming anxious. He would wash his hands all the time.
Johnny started working as a custodian at Our Place almost a year ago, starting when he was four months sober. *
Part of Johnny's recovery plan is meeting with four counsellors, who know him from "head to toe," being active and staying busy.
[The pandemic] took a lot away from me, I'm not a Netflix kind of person so to have the gym taken away from me – the gym, the sauna, the recovery programs, meetings – … to have all that taken away from me really affected me at the beginning.
Johnny has chosen to shift focus from his fears around COVID-19 to feelings of grief he hasn't dealt with.
"Just making that a priority allows me to not worry so much about what's going on. I'm conscious of my own struggles right now and what will make it worse, and what will eventually cause me to relapse, so I picked one I can have control over which is grief and depression and sadness and loneliness — I can fix those, this whole COVID thing, I can't fix that."
Another thing getting Johnny through the pandemic is love for a dog he met 11 months ago. When Johnny moves out of the recovery home he plans to adopt Lyca, a dog also recovering from a rough life.
"She's been abandoned for so many years by so many people, it would be a shame if I did the same thing and I've just got to remember how much I love the dog and how she loves me and how much she means to me," he says. "It's safe to say I'm going to go above and beyond for her."
Story by Kendra Crighton, Victoria News
https://www.ourplacesociety.com/wp-content/uploads/2021/01/dakota_johnny.jpg
243
365
caorda
https://www.ourplacesociety.com/wp-content/uploads/2021/01/our-place-logo-green-bg.svg
caorda
2021-01-21 22:03:08
2021-07-12 20:47:50
Dakota's story