Coldest Night
You Can Take a Big Step for our Neighbours in Need.
Our Place Society and Pacific Centre Family Services Assn (PCFSA) have once again teamed up for the 2022 Coldest Night of the Y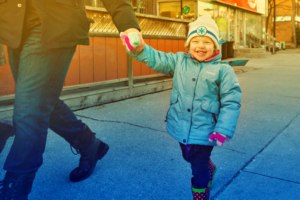 ear charity walk. Together, we are proud to offer families, faith, work, and community groups the opportunity to walk in solidarity and raise awareness and funds to help serve the hungry, homeless, and hurting people in our community.
Click here for our sponsorship package. You have the opportunity to showcase your business's core values while making a greater impact as you lead the community for a brighter tomorrow.
Join our zoom information session on January 7. Ask questions, share fun, creative ideas and get excited about a growing region-wide campaign to support our friends and neighbors in need. Email stevens@ourplacesociety.com to get your access link.
Participants of this year's February 26 walk will:
Enjoy family friendly activities both before and after the walk
• Join hundreds of compassionate members of our community, participating in Canada's Fastest Growing Peer-to-Peer Fundraising campaign
• Get some warm food and drink on a cold winter's night
• Have the option to walk virtually and show support from your own home/neighbourhood
*We will have volunteers on hand to help ensure health and safety protocols are in place.
Last year, you helped us raise over $150,000 between our two walk locations. With your support, this year we think we can beat it! Please consider gathering a team together and join us Saturday, February 26th either in person or virtually.
To register on November 1st, please visit one of the following websites (those planning to walk virtually may visit either website):
Victoria Walk:
https://cnoy.org/location/victoria/Pandora
Westshore Walk:
https://cnoy.org/location/victoriawestshore
An effect of the pandemic has been the increase of people accessing our programs and services. Our Place and PCFSA are here for individuals and families facing extreme challenges – regardless of the reason. Your support will ensure that we can continue to be a beacon for our friends and neighbours experiencing tough times.
Thank you.
Archived from our 2021 campaign:
Coldest Night February Update
On behalf of Our Place Society (OPS) and Pacific Centre Family Services Association (PCFSA), thank you for stepping up, walking and fundraising in support of the hungry and the hurting. While we are not able to be together at this time, your contribution brings us together as a community.
Exciting news:
Big Wheel Burger, a Coldest Night Sponsor and huge community leader, has two major announcements:
For the entire month of February, $2 from every Feature burger sold in Victoria will be donated to Our Place (and in the WestShore, to OPS and PCFSA)
Big Wheel Burger will also be donating $10 online gift cards to everyone who signs up and fundraises for the walks. You will be receiving your online gift card by email next week.
Please join us in thanking all of our Coldest Night sponsors: AutoTempest.com, Slegg Building Materials, Big Wheel Burger, Houle Electric, Grant Thornton, Philip Bisset Covaneiro of IG Wealth Management, Proline Property Management, The Vancouver Island Vegan Association, South Island Property Management, Auxilium Mortgage Corp., Times Colonist, CHEK News, Used Victoria, the Goldstream Gazette & The WestShore Chamber.
Toque Toss:
During the week of the event, we will be arranging locations to provide you with your Coldest Night of the Year toques in a safe, socially distant way. Please pull up to our downtown or WestShore locations, open your car windows – masks up, provide us your names and we will toss your toque(s) to you.
While you must have fundraised $150 ($75 for kids) to receive this year's toques, we can provide a toque for anyone who has fundraised $60 or more.
Times and locations:
Monday, Feb 15: 3-5pm: The parking lot across the street from Our Place on Pandora Ave.
Tuesday, Feb 16: 5-7pm: Pacific Centre Family Services Assn. 324 Goldstream Avenue – the parking lot behind the building
Wednesday, Feb 17: 4-6pm: The parking lot across the street from Our Place on Pandora Ave.
On Tuesday we welcome the team from CHEK TV's The Upside who will be broadcasting live on location throughout the news broadcast. You may get your toque tossed at you from Victoria broadcasting icon Ed Bain.
Remember, pull up in your car, mask up, give us your name an be ready to catch your toque. Those who signed up downtown can go to the Goldstream location to pick up your toques
We also have some glowsticks to hand out so during the week and especially on the 20th, we hope the streets are filled (socially distanced) with toques, glow sticks and community champions! Please promote your participation on social media using #CNOY21 and #YYCNOY
If you have any questions, you are welcome contact me at stevens@ourplacesociety.com
On behalf of Our Place and Pacific Centre Family Services Association, we are so appreciative of your commitment to our programs, our services and our community.
Steven
Coldest Night January Update
Please Show Your Support, One Step at a Time
We are inviting the Greater Victoria community to join thousands of people across Canada for Coldest Night of the Year, a campaign to raise funds and awareness around issues of poverty and homelessness.
Sign up at https://cnoy.org/location/victoriapandora or https://cnoy.org/location/victoriawestshore and join us (virtually) on the afternoon or evening of Saturday, February 20 (or any time that week) to take a healthy winter walk – socially distanced- in support of those struggling with poverty and homelessness.
We will be arranging a safe way to provide toques and other gifts to participants including some wonderful meal options. More info to come.
We will also be providing contest prizes to those of you who:
Post the best pictures and videos of your walk
Post the best pictures and videos of signage you create promoting the walk
Post the best footshots (pics of the shoes you are wearing on your walk)
Individual Walkers who raise over $250 will have their name put in a draw to win a $100 Spa Gift Card
***Please us hashtags #CNOY21 and #YYJCNOY for your posts or you can simply send in pics by email.
We are saddened to make the change to a virtual event this year but please know that your support will continue to have a major impact on our work with vulnerable members of our community.
All money raised goes directly to ensuring we continue to provide meals and shelter to the most vulnerable members of our community we are also fundraising to extend the hours of our drop-in centre at 919 Pandora. Pacific Centre Family Services Association is partnering with us in the WestShore.
Please encourage others to sign up, fundraise and walk virtually in their neighborhoods. One step at a time we can help those in the community who need it most.
If you have any questions or concerns, please contact us
Sign up to join our Coldest Night of the Year walkathon NOW! Every pledge of $150 earns a toque and a light to ensure we light up the night.
How can you help?
Sign up yourself or form a team
Circulate a challenge widely on your social media channels, or forward this email to friends as an email.
Promote the hashtag on social media (#cnoy21 #YYJCNOY) to build momentum.
Please contact me if you have any questions or wish to sponsor a walker.
I'll see you out in the cold.
Steven Seltzer
Manager of Special Events & Corporate Giving
Our Place Society in partnership with Pacific Centre Family Services Association
https://www.pacificcentrefamilyservices.org/
All those interested in attending and asking questions are asked to call 250-940-5064 or email stevens@ourplacesociety.com.