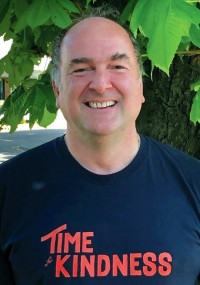 To donate to the fall campaign, please scroll to the bottom of the page.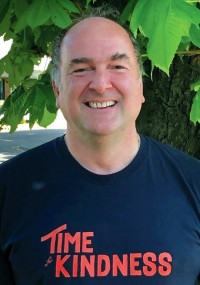 by Julian Daly, CEO.
I'm excited to have a fresh start at my new job as CEO at Our Place. Our community is in the midst of a fresh start after the unsettling spring of the COVID-19 crisis.
I am encouraged to see the fresh starts of many people in need who access the services, made possible by donors to Our Place.
Learning there is a caring circle of donors, like you, supporting Our Place was one of the reasons why I moved from Edmonton to work here. A deep level of community support is so important to the success of any organization — especially one that looks after our most vulnerable citizens.
The COVID-19 crisis is tough on all of us, but the impact is especially harsh on people without somewhere to self-isolate. I wish you could see the difference your generosity makes to the men and women who rely on Our Place every single day for three meals daily, as well as access to showers, foot care, washrooms, and a sense of hope.
Currently, I'm busy meeting the people whose lives are being transformed by a fresh start too. People like Rathborne, who after struggling with living on the streets for years is finally able to look to a future with hope in his heart. That's mostly because he now has a safe place to lay his head, rest and recover thanks to Our Place.​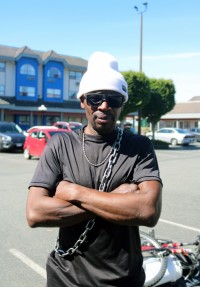 His downfall was addiction – in particular, alcohol. At first Rathborne would drink to relieve the confusion and anger that flooded his brain, but numbing his pain only led him further down a dark road. For 26 years, Rathborne was able to
stay on a steady path – he was employed in moving and installing heavy machinery in Victoria's construction industry. "I was a functional drunk," he says. "Every day, I'd go to work drunk, but you wouldn't know it, and I'd do my job for 14 hours, then go home." (pictured, Rathborne)
Naturally, this daily pattern created chaos at work and at home. His inability to control his emotions, and the resulting downward spiral, led to a life on the street. He lost his long-term relationship, his possessions, friends, and eventually his job. He ended up living in a tent — first on Pandora Avenue, then in Topaz Park. And, like many who find their way to Our Place, he felt hopeless and simply couldn't see a way out.
Unfortunately, this can happen to almost anyone.
Homelessness for Rathborne — as it would be for most of us – was exhausting. Every day, the majority of his time was spent in survival mode: finding shelter, food, warmth, a toilet and shower, clean, dry clothing, and somewhere just to feel safe. He had little energy left to hold down even the most basic manual work. He was on his way to giving up entirely.
Rathborne's recent move to the former Comfort Inn – operated by Our Place Society – has given him his first home in years. It comes with the supports he needs. His new home has brought him the security and stability needed for a true fresh start. As a result, his newfound energy and purpose has encouraged him to add his voice to help others on the street. "We need to have homelessness alleviated," he says.
You likely share his wish, too. That's why we're inviting you to join our FRESH START CAMPAIGN today. Your gift helps hundreds of hurting and hungry people meet their essential needs for food and shelter and offers them a chance to meet their core human need for belonging. Your contribution enables Our Place's highly trained staff to guide people like Rathborne to build a healthier, happier and more productive life.
Please contribute to our FRESH START CAMPAIGN to help people like Rathborne find a supported place to plant their feet and open doors to new opportunities. Your gift of $25 or $100 or even a monthly pledge of whatever you can contribute will make a real difference and help vulnerable people, like Rathborne, discover a better, brighter future! (See below for the online form, or call us today at 250-940-5060!)
With gratitude,
Julian Daly
Chief Executive Officer
P.S. All donations received mailed by September 12, 2020 will be matched by a caring circle of monthly donors (up to $80,000). And, you will receive an emailed tax receipt immediately.
P.P.S. Please consider providing sustaining funding with a reaccuring monthly donation. You will receive one comprehensive tax receipt in February.