Hungry Hearts Vital to Feeding Victoria Communities
Top Local Chefs Meet in 1 Week to Draw for Secret Protein Ingredient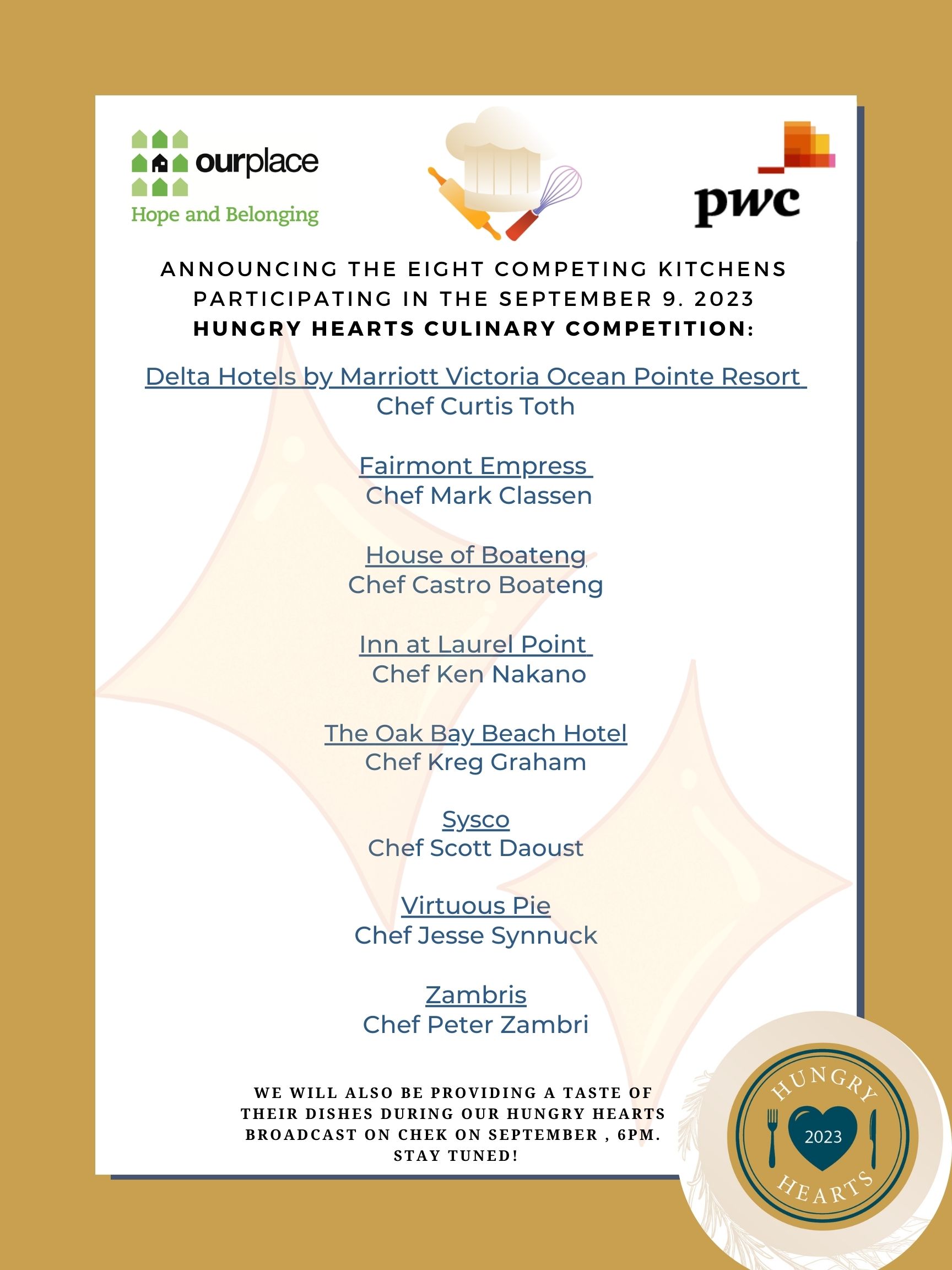 Hungry Hearts Vital to Feeding Victoria Communities
Media release
June 12, 2023
For Immediate Release
VICTORIA, B.C. As the largest provider of emergency meals in the Greater Victoria region, the rising cost of ingredients has become a major challenge for Our Place.
"We need to find $175,000 this year alone just to purchase protein," says Kitchen Manager Brian Cox whose team serves over 1,200 nutritious meals each day to those in need.
Our Place hopes to make a significant dent in food costs through its signature fundraising campaign, Hungry Hearts. The event will tie in the need for protein with a black box type competition.
It will all start on Friday, June 16 at 2:3pm at the Harbour Patio of Delta hotels By Marriott Victoria Ocean Pointe Resort, as the eight talented chefs competing in this year's culinary competition will draw from a chef's hat to find out which protein they will each be working with during the Hungry Hearts broadcast (September 2) and culinary gala (September 9).
"It's exciting to think that nine years ago, Hungry Hearts started out as a simple soup and sandwich competition amongst 5 local restaurants," explains Our Place CEO, Julian Daly. "Now it has grown into the region's favourite culinary gala fundraiser.
Last year, Robert Cassels, Chef-Owner of Saveur Restaurant was named Hungry Hearts champion. Included in this year's challenge will be some new and returning competitors. Chef Castro Boateng of the House of Boateng will be rejoining Hungry Hearts. Boateng is the only multi-year winner of the award and has also won numerous other awards for his culinary creations.
The full list of acclaimed Chef Competitors will represent:
Delta Hotels by Marriott Victoria Ocean Pointe Resort
Fairmont Empress
House of Boateng Café & Catering
Inn at Laurel Point
Oak Bay Beach Hotel
Sysco Victoria
Virtuous Pie
Zambri's
Tickets are now available for the gala at www.hibid.ca or by calling 250-940-5064. Meanwhile, item viewing for Our Place's Best of the Region online auction, with over 200 great items (including restaurant, hotel, health, beauty and pet packages) begins in late August also at hibid.ca. Bidding begins Aug 31 and Auction closes on Saturday, Sept 9 at 8:30 pm.
Since its inception, the event has raised over a million dollars in support of vital programs and services provided to those struggling with poverty and homelessness in Greater Victoria."
Our Place Society has grown from a unique inner-city community centre to numerous locations serving Greater Victoria's most vulnerable, including people struggling with homelessness, mental health challenges, substance use issues, the working poor, and impoverished elderly. Individuals and businesses provide over 50% of the financial support for its programs and services. Our Place provides over 1,200 meals every day, over 500 units of housing plus transitional shelter spaces, hot showers, education, job skills, health care, addiction recovery services, donated clothing, counseling and outreach services, and a 60-bin storage facility. Most importantly, Our Place provides a sense of hope and belonging to our neighbours in need.
-30-
For further information, please contact:
Steven Seltzer, Manager of Special Events and Corporate Giving
T: 250-940-5064
Cell: 250-882-8441
Email: stevens@ourplacesociety.com
https://www.ourplacesociety.com/wp-content/uploads/2023/06/Menu-For-HH23.jpg
2304
1728
caorda
https://www.ourplacesociety.com/wp-content/uploads/2021/01/our-place-logo-green-bg.svg
caorda
2023-06-12 14:34:35
2023-06-14 14:34:44
Hungry Hearts Vital to Feeding Victoria Communities