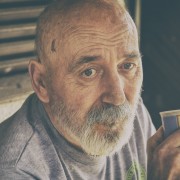 At Our Place, a meal is often that first crucial step toward a healthier and happier life.
A nutritious meal is often what brings those we serve through our doors, but when they come to us for meals, we get the chance to spend time with them and offer them some support and care. We are able to assist them to regain their dignity, and connect them to a path of positive change. When folk come to us for a meal, it's more than just food on a plate – it's compassion, community, acceptance – it's a meal, plus so much more. Read Dan and Jordan's stories here.
Your kindness will help folk who are experiencing homelessness not only meet their basic needs, but also let them know that someone cares for them.
Just fill out the online donation form – it's easy to make a donation this way! Or, call our Donor Hot Line during weekday office hours: 250-940-5060. Thank you!