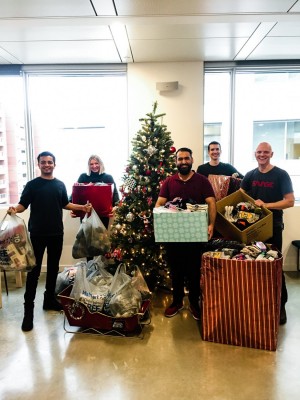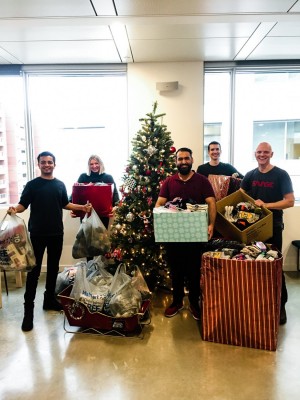 What's Your Activity? Supporting great causes can be fun and fulfilling. Consider an activity that not only gives back to the community, but helps build your team as well. Together, feel the unity that comes from helping those less fortunate. Promote good values while building your staff, students, or church community by helping Greater Victoria's hungry and hurting. Contact stevens@ourplacesociety.com
Create your own Fundraising Page
Raise funds to sponsor a meal $500+, replace old and damaged flooring for a resident's room $2,000, or even raise $5,000 for the Hope Fund.
Add a photo, story and set a goal then share your web page on social media. Go to https://www.canadahelps.org/en/fundraise/
Collecting Clothing and Toiletries – Donation Drive Information
Basic life saving items of underwear, winter gear, first aid and toiletries are always needed at Our Place Society but we don't always have the capacity without incurring the cost of storing and sorting. A more effective way to support vulnerable people with essential items is through the donation of gift cards from a local store or by donating the equivalent cost of the item through our online donation form (below) or by calling the Donor Hot Line at 250-940-5060. We can then purchase the items at bulk discount and get sizes, gender, style, etc. that is needed in the moment. Thank you for caring. Your donation will be transformed into Hope and Belonging at Our Place.
We encourage community groups to organize clothing or toiletry drives as a way of giving back and connecting to Our Place. We are happy to send our logo to you so you can to make posters to organize these events. We see increased success for these kinds of drives when the groups make a specific request or create a theme.
How to run a drive:
Choose a day (or week) for your drive and a collection place that can accept the quantity of goods you are expecting (a room at the school, warehouse, garage, or storage facility).
Recruit some volunteers who will help you sort and pack.
Advertise the drive through your school, neighborhood, place of worship, sports team, etc. e.g. Email notices, Facebook event page, Facebook Market page, Used Victoria, hand out flyers, put up posters—whatever you can do to get the word out. Some schools accept video announcements, which are also good to share on Facebook.
Send out the list of the needed items. (See suggestions below)
Remind donors that we need clean, gently-used or new items only. You'd be surprised at what some people donate.
Collect!
Sort, pack and label into boxes or bags
Deliver to Our Place at 919 Pandora Avenue (reception open 24-7). Please give us advance warning so we can meet you and arrange a tour for your group (COVID restrictions allowing). Thank you for all your hard work and time.
Year-round needs:
Socks and new underwear (priority mens)
Clothing (both men's and ladies)
Sleeping bags
Backpacks and tents
Hygiene products: travel sizes are preferred
Soap
Shampoo/Conditioner
Razors/Shaving Foam
Combs/Brushes
Toothbrush/toothpaste
Feminine Hygiene Products
Deodorant
New facemasks
Additional Winter needs:
Warm socks
Gloves, mittens, toques and scarves
Warm jackets
Blankets