Unconditional Love Conquers All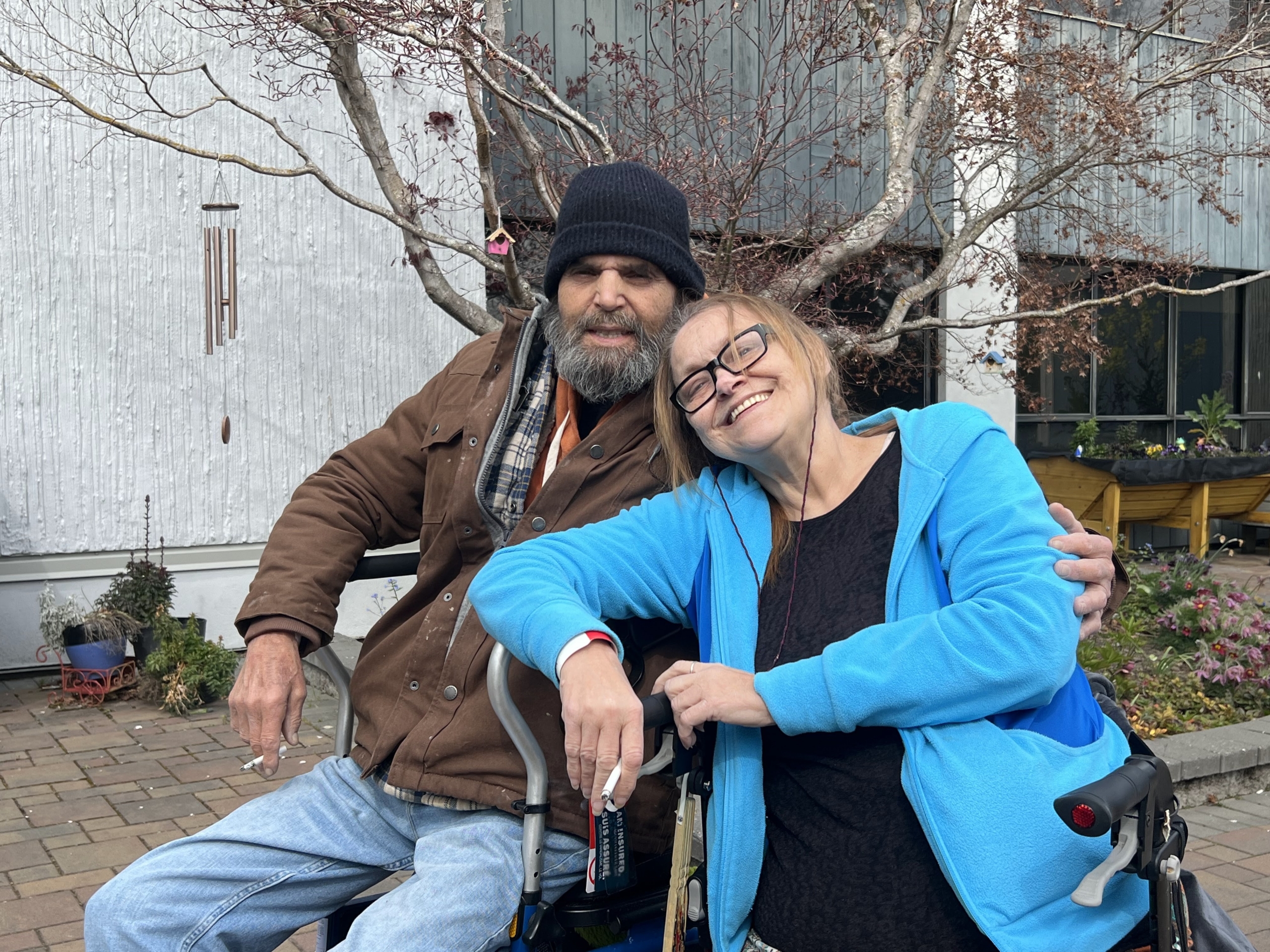 Unconditional Love Conquers All
When you think of the few thousand people experiencing poverty and homelessness Our Place serves each year, a story about true love may not be the first thing that comes to mind.
Two seniors that Salome Waters, Our Place's Seniors Inclusion Worker, visits are Sylvia, 67, and Nathan, 71, who have "been together 19 years, married for 17". The adoration between them is palpable. Each time Nathan wheels his walker towards Sylvia, her eyes sparkle and a glowing smile appears. Seeing one other is clearly the best part of their days.
"The very first time we met he said, 'We're not going to be friends. We're going to be much more,' and I guess he was right," says Sylvia. "It took him a couple of years to get me, but he was right there every step of the way." Quips Nathan, "It wasn't my fault!"
Things were great as their budding relationship began to take root. They lived a happy life together in Calgary, working respectable jobs and making ends meet. When widespread flooding happened across Alberta in 2006, Sylvia and Nathan moved out west. "My family spent the summers in Victoria when I was growing up," says Sylvia, "and Nathan was born in Nanaimo, so it made sense, and we just fell in love with it."
About two years later they had settled in a 55+ building when Nathan had a debilitating heart attack. "He had to have a quintuple bypass and that changed everything," says Sylvia. As they began the slow process of rebuilding their lives, the unthinkable happened. They were renovicted from their home and ended up on the streets of Victoria.
"We slept at First Met [shelter] every night on the mats there," says Sylvia. "Every morning by 6:30 we'd put all of our possessions on one walker and push it all over there, and back again that night." The couple spent their days together at the Community Centre on Pandora, for showers, washrooms, programs and meals.
The next few years led them on a journey through homelessness, and a horrifying living situation. When they did find housing, the refurbished motel where they lived was infested with bedbugs. They lived in those conditions for a year and a half – the scars on Sylvia's arms from the bites are just starting to fade. Eventually they connected with Island Health, and were referred for a placement at Our Place's Russell Street shelter. "We literally lost everything we had except for the clothes on our backs, and even they needed to be treated [for bed bugs]," says Sylvia. "They had to give us new clothes when we got to Russell Street. The staff were just awesome."
For ten months, the pair lived in side-by-side pods at Russell Street. Sylvia and Nathan started taking part in the Seniors Support group there. "It was awesome," says Sylvia. "We played games, we enjoyed lots of goodies… There were days that we just felt 'yuck' and then Salome would show up and it was like 'WOW'."
"I always like to do something special for the seniors I work with," says Salome. "I bring them their favourite things, like red velvet cake or apple pie. I want their time together to be positive and filled with joy. They're my family, I just love them." Salome runs seniors programming at three Our Place locations, thanks to donors who care about how we treat our elders.
Russell Street temporary shelter was due to close, so Sylvia and Nathan were transferred to Our Place's Muncey Place hotel. Salome made sure to maintain their connection. Then, after just a week there, Sylvia and Nathan were assessed by Island Health and it was recommended they each go in to long-term care. They now live in a local hospital, in separate wings, waiting for the chance to move together into one room in their forever home within the next year.
Salome continues to visit every week, providing support, care, friendship, and, of course, goodies. "Sylvia and Nathan have been through more than anyone can possibly imagine," says Salome. "But what's impressed me most about them is that they have kept their dignity so beautifully throughout. And they are stronger than ever because of their love."
Nathan calls attention to a story in Greek mythology: "There's this couple named Baucis and Philomen who were poor, but they wanted to be together. So a God came down and asked them what they wanted, and they said to die together at the same time. One day they both walked outside and turned to trees, intertwined together forever. It's a hell of a story. You should look it up sometime. That's us."
They knew that they were just as happy then, amid the squalor, as they were now, surrounded by opulence. And just as much in love! The memories flooded from them and they reveled at the fullness of their lives. Philemon suddenly saw Baucis putting forth leaves, and the same was happening to him! In no time bark was growing around them and they only had time for one last kiss and a joyous cry of "Farewell dear companion!" before they became trees. ~ Greek Mythology
This a story about the hidden homeless here in our community. You may not notice them as much as you notice the folks who are affected by drug addiction and severe mental health issues that you might see on our streets. A different population of homeless folk exists – they are the people like Sylvia and Nathan. Please consider joining us on this journey of healing and restoring dignity to hundreds of people in need.
https://www.ourplacesociety.com/wp-content/uploads/2023/05/Sylvia-Nathan-2-scaled.jpeg
1920
2560
Susan Postma
https://www.ourplacesociety.com/wp-content/uploads/2021/01/our-place-logo-green-bg.svg
Susan Postma
2023-05-25 14:20:19
2023-08-29 13:41:54
Unconditional Love Conquers All