Beverly & Andrew's Volunteer Story
Everyone has their own story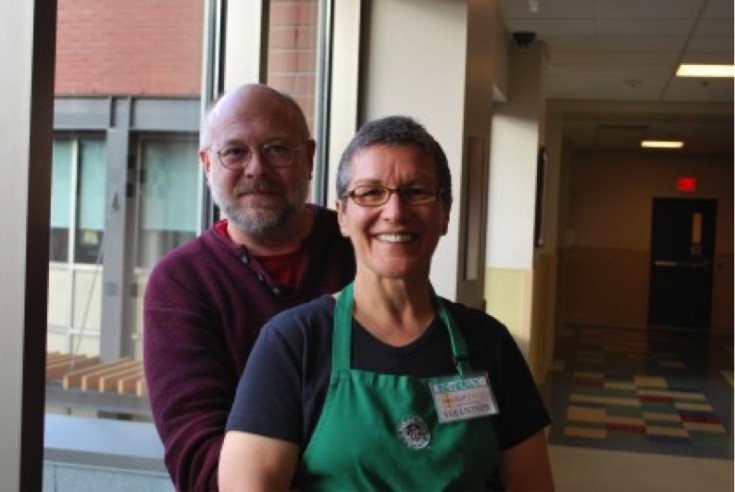 Beverly & Andrew's Volunteer Story
What do you do at the end of a long, hard week of running your own home-based business? If you are Beverly and Andrew, you spend every Friday afternoon serving dinner to the Our Place family.
Beverly and Andrew find that volunteering is a meaningful way to end the week. Their time at Our Place is a reminder of how homelessness, poverty, addiction and mental illness touch us all. And while some volunteers come to Our Place out of a general desire to help, others, like Andrew and Beverly, are drawn to Our Place for deeply personal reasons. They have lost friends and family members to addictions and mental illness.
Andrew and Beverly enjoy interacting with staff, other volunteers and, most especially, the Our Place family members. Serving meals offers them a chance to make simple human connections through conversation and get to know people's names. Putting a name to a face they may see on the streets downtown gives them a better understanding of — and appreciation for — the individual circumstances of our family. Andrew feels that he has some ownership of the downtown area and a better handle on who he shares our city with.
Although Beverly and Andrew's motivation to volunteer was initially to serve others, they have since come to learn what other Our Place volunteers know well. A volunteer receives far more than he or she gives by helping out at Our Place. Giving and receiving happen here on a daily basis.
One week a volunteer may be coaching other volunteers and family members. The next week a volunteer may be excited to hear that someone they have befriended has found a place to live. Virtually every week they witness transformations, both large and small. Of course, the hard reality is that not all changes are positive, reminding us of the frailty of the human condition.
At Our Place there is no standard story. Everyone has their own story, and our volunteers are no exception. Andrew and Beverly, like the many volunteers who assist us in our programs, may have come to Our Place for a host of reasons. But they stay because of the meaning and joy they experience from being valued members of the Our Place family.
https://www.ourplacesociety.com/wp-content/uploads/2021/04/beverly.jpg
492
735
caorda
https://www.ourplacesociety.com/wp-content/uploads/2021/01/our-place-logo-green-bg.svg
caorda
2021-05-21 04:50:17
2023-08-09 12:05:31
Beverly & Andrew's Volunteer Story