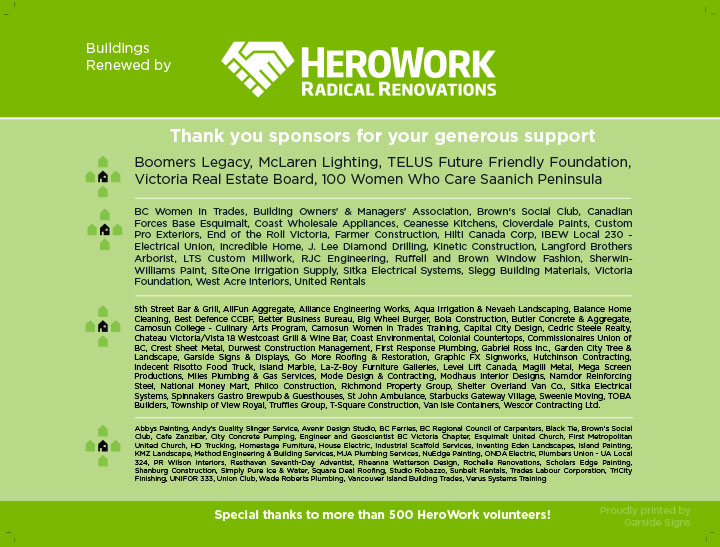 Thank you to our corporate partners!
Our Place Society enjoys a positive, wide-reaching brand in Greater Victoria and the Island. By partnering with Our Place on events and programs your company has the opportunity to reach new customers, align your brand with a large, local charity, and involve your employees with hands-on activities in caring for our community. Our Place is proud to be selected as one of MacLean's Magazine's Top 100, out of 84,000 Canadian registered charities!
Our Place Society Reach
Donor Enews – min. 2 times a month @ 7,000
Website – 20,000+ sessions a month; 5,900 new users
Facebook – 6,600 followers
Instagram – 1,700 followers
Twitter – 3,000 followers
Newsletter circulation – 10,000 x three times per year
Volunteers & Staff – 900 volunteers and 200 staff
Opportunities for sponsorship in the past have included the following events. Each is currently being modified in light of the pandemic. Contact Steven to discuss mutually beneficial opportunities.
Coldest Night of the Year family walk in February – Sponsorship Package
Hungry Hearts Virtual Gala in September – Sponsorship Package
TV and Radio ads – $5,000 packages
Monthly Donor Circle of Love Club, mailings, newsletter article and event – $5,000
Sponsored Meals (your work team serves) – $500- $750 – brochure
Giving Tuesday social media event (matching funds) with newspaper support, November/ December – $5,000 (taken); $1,000 level available
Online Enews Campaign to 7,000 people plus a post on a social media – $1,000
Times Colonist 4-page newspaper insert, dist. 137,000 – $1,000 banner ad
We would also be pleased to create mutually beneficial partnership agreements based on cash and in-kind contributions.
Please contact:
Steven Seltzer
stevens@ourplacesociety.com
T: 250-940-5064
Thank you to all our past and current sponsors. Your sponsorship transforms into hope, belonging and love at Our Place.