Jerry's Story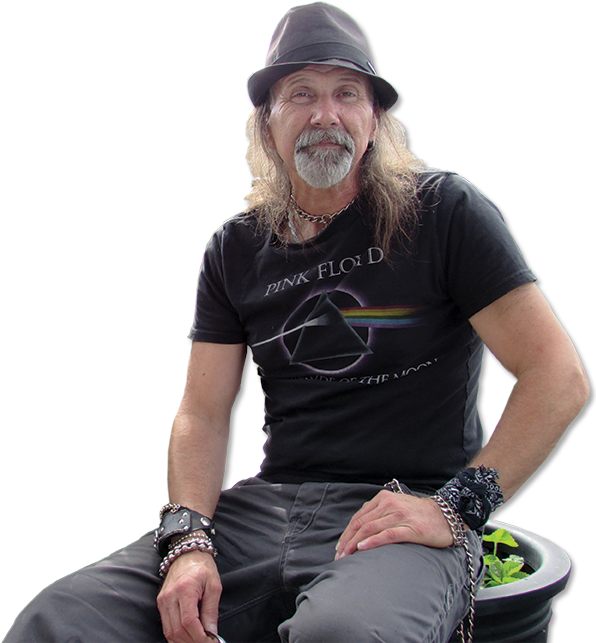 Wearing a Pink Floyd T-shirt, it's evident that music has always played an important role in Jerry's life. When asked when he got married, he easily answers, "It was the year The Eagles released 'Hell Freezes Over'." He smiles. "That's what all my friends said, Hell must have frozen over if Jerry is getting married."
Born in Victoria, Jerry's start to life was as normal as most people's. Raised in James Bay, he ran around with his older brothers, exploring the neighbourhood, and doing what young boys do.
"We used to go down to Fisherman's Wharf," he says in fond remembrance. "My brothers would hang me over the side of the pier by my ankles so I could cut away the bait worms for fishing."
As part of a large, working-class family, Jerry was one of four brothers and two sisters. Part-way through Grade 9, however, he decided school wasn't for him.
That decision was fine with his father, but with one caveat: if he wasn't going to school, he was going to work.
"Dad woke me up the very next morning and said 'you gotta work'."
His father and uncle ran a small construction business, and Jerry soon found himself with a framing hammer in his hand.
"That first year was really tough," he says. "They didn't want to teach me anything until they were sure I was taking it seriously." Once his father saw he wasn't about to quit, his apprenticeship began.
"I framed houses for the next 30 years," he says. "I was lucky to get a trade, but I also learned how to drink."
Work hard, play harder became his motto. As it was also the lifestyle of the friends he hung with, Jerry never saw any need to be concerned.
"I had the skills and a toolbelt," he says. "That allowed me to follow the work."
After getting married in Edmonton, Jerry returned to the Island and life was looking good. He had a mortgage-free home in Esquimalt and became father to three children.
He still liked to party, but had it under control until, "I discovered crack cocaine."
When the cheap, highly-addictive drug entered his partying scene, Jerry's life tipped over the edge.
"My mantra became 'You're not a junkie if you can afford it' but crack seriously messed me up."
Before long, the drug consumed him. Jerry lost interest in work, ran out of money and started taking equity out of the house. That downward spiral quickly saw him lose his house, his marriage — everything he had worked so hard for.
Jerry ended up on the streets, living in shelters, crashing on a friend's couch, struggling to both survive and feed his addiction.
Other agencies tried to help as he battled his addiction — staying sober for up to seven months at a time — but it didn't stick and he found himself evicted and back to living on the streets.
Last April, however, the 59-year-old secured a room at Our Place, and this time he really wanted it to work.
"My health was bad," he says. "I knew I had to get healthy first before I could deal with my addiction."
Diagnosed with Hepatitis C, Jerry entered treatment and went through the toughest six months of his life. Interferon therapy for Hep C is similar to chemotherapy for cancer patients.
"It kicked my ass," he says bluntly. "I didn't think I would make it. If it wasn't for the support of all the staff and residents at Our Place, I don't know . . ." He shakes his head and it's clear that he's survived a traumatic ordeal.
As a survivor, Jerry has teamed up with several other Our Place residents to launch a new SMART recovery program. SMART is a self-help program designed to support individuals who have chosen to abstain, or are considering abstinence from any type of addictive behaviour, by teaching how to change self-defeating thinking, emotions, and actions; and to work towards long-term satisfactions and quality of life.
Jerry still has a way to go, but he has his sights set clearly on the horizon. Two months ago, he became a grandfather for the first time.
"I just want to be there for my kids," he says. "Whatever that entails."
https://www.ourplacesociety.com/wp-content/uploads/2016/05/jerry_main.png
643
596
caorda
https://www.ourplacesociety.com/wp-content/uploads/2021/01/our-place-logo-green-bg.svg
caorda
2016-05-16 16:13:46
2021-07-12 20:48:07
Jerry's Story