Jill's Story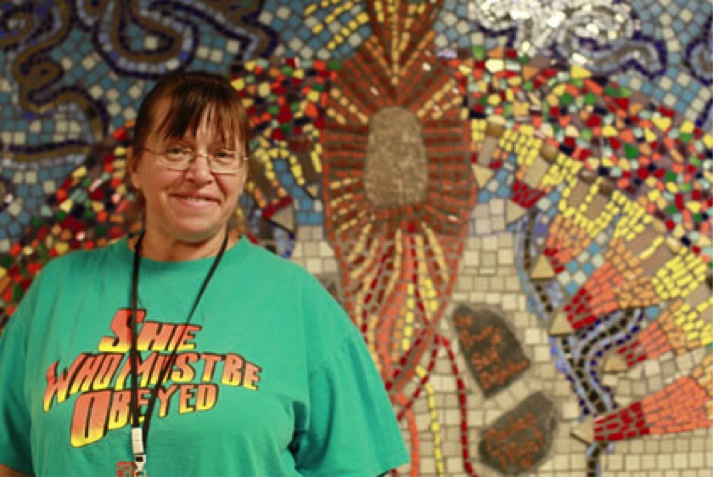 When Jill first came to Our Place, she was in a virtual meltdown. Several years earlier, Jill had lost her job as a dietary aid at a long term care home when it was privatized. To make matters worse, she was forced to move from her home because a man who had stalked and assaulted her was released from prison after serving only four months. She was afraid.  The story of what happened in court is recalled in her published poem, "Don't Judge":
A violent offender is free to roam
And I was forced to leave my home.
I'm told to be "vigilant and aware"
"Play it safe – he's out there somewhere"
When her Employment Insurance ran out, she found herself homeless. "The first night was spent in the rain on the streets. I started to get into the drugs after that, doing coke and…I spiraled even more downwards by getting on the [heroin] needle."
A friend eventually nursed her off the heroin, and, as Jill puts it, "saved my life."  They became a couple and came to Victoria in the summer 2005.  While this was an improvement, Jill was still troubled.
Our Place first met Jill after she had a meltdown at a women's shelter.  By her own account she "flipped out and was in a rage and screaming in the street."  Our Place helped Jill obtain financial support and then housing through the Victoria Human Exchange Society. She obtained a job at Our Place stuffing envelopes, running errands and cleaning offices.
Jill has now been safely housed for three years.  She still takes time to volunteer at Our Place in hygiene area each week, and is a competent, reliable, and enthusiastic member of the extended Our Place family.
Jill wrote a book of poetry, which she read for the first time at a fundraiser for Our Place.   Immediately following her reading of "Don't Judge," she had an order for 500 copies and an invitation to speak to a creative writing class at the University of Victoria.
Jill became a speaker and important voice at community events and forums, and helped organize an art walk for Anti-Stigma Week. Jill was also chosen to attend a harm reduction conference in Montreal where she saw her brother for the first time in 20 years.
Jill was an inspiration to everyone who met her. From living on the streets and becoming addicted to heroin, Jill never gave up. With the help of Our Place and through her own incredible determination, Jill became a community leader through her work at S.O.L.I.D. (Society of Living Illicit Drug Users), volunteering at Our Place, and even serving on the Our Place Board of Directors.
Sadly, Jill passed away from cancer in July 2017. Jill encapsulated everything we wish for our family members: strength, courage, humour and love.
https://www.ourplacesociety.com/wp-content/uploads/2014/07/jill.jpg
477
713
caorda
https://www.ourplacesociety.com/wp-content/uploads/2021/01/our-place-logo-green-bg.svg
caorda
2014-07-09 18:11:12
2021-07-12 20:48:23
Jill's Story