Maree's Story
I felt a calling to go into nursing, just like I feel a calling here at Our Place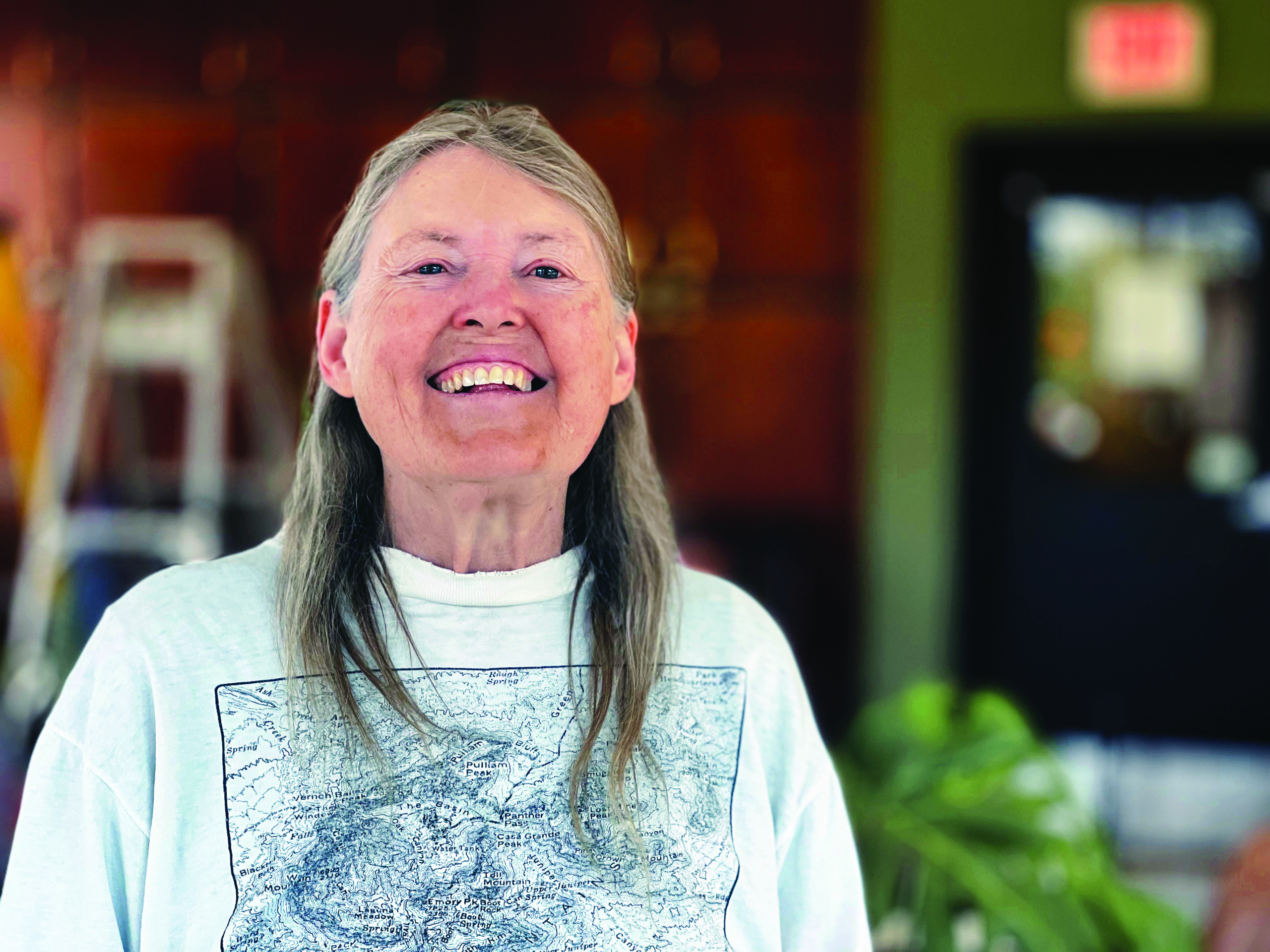 While Maree is a beacon of sunshine as a volunteer in Our Place's computer lab, it's her grit and determination that make her story resonate with those she helps.
Born in Melbourne, Australia, as the eldest of five siblings, Maree first noticed something wasn't quite right after going through puberty.
"I suffered from depression, but not all the time. At school, I would burst into tears," she says. "I had a reason to cry, but it was very embarrassing in front of the other students."
A diagnosis of bipolar disorder, combined with learning difficulties, meant that Maree struggled to get high marks at school. She ended up leaving at 16 to work in the accounting department at Victorian Railways where her father worked.
After two years, Maree felt a calling and became a nursing assistant at the Spastic Children's Society (a common but now outdated term for children suffering with cerebral palsy).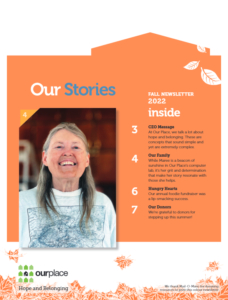 Despite that calling, Maree continued to struggle. Her bipolar flared and she found the work environment difficult.
"I got along with the patients and the residents beautifully," she says. "But the staff said I was too slow. And that made me cry."
Sadly, Maree was fired from her position, but her passion for helping others remained unabated.
She returned to hospital work in the instrument sterilization department, and then decided to enrol in a program to become a qualified nurse.
Maree married a Canadian during that time and emigrated to Victoria in 1996 ("The year of the snowstorm," she says) after deciding she preferred it over Vancouver.
In Victoria, Maree became a Community Health Worker. Despite sticking it out for 10 years, Maree describes her time in the field as "a disaster."
"I worked all around the community, "she says, "but ended up nursing two challenging psychiatric cases, and I ended up not too well myself."
Maree took a seven-month leave and went to work for the Canadian National Institute for the Blind.
"And that was a beautiful job," she says. "They loved me there."
With a comfortable home in a local mobile home park, Maree decided to semi-retire in 2008 at the age of 56.
Living on her own, however, hoarding started to become an issue until the owner of the park sold the property to developers and Maree's home, where she had lived for 19 years, was demolished.
"That was sad to see my house go," she says. "I took it pretty well, I think. I had help from a lady friend who goes to my church and she helped me to move."
After moving into an RV park where she currently lives in a 5th-Wheel trailer, Maree saw a computer class being offered by Camosun College and decided to take it.
Enjoying the class, Maree learned one of the professors was also teaching classes at Our Place, and needed an assistant. That was nearly 10 years ago, and while the instructor has since left, Maree has stayed on.
"I discovered that I enjoyed the job," she says with a bright smile. "Our Place was happy with me, so they just let me keep on doing it."
Maree has since made the computer lab her own by keeping everything clean and reminding people that food and drink aren't allowed — especially near the keyboards. She also appreciates the colourful stained-glass windows created by Reverend Al Tysick, which remind her of her faith in God.
"Our computers are wonderful now," she says. "Even the keyboards."
With 12 workstations for people to enjoy, Maree gets to greet her regulars four days per week and catch up on their lives. For the last two years, she has also been part of the Peers Helping Peers program.
The most common activities she notices the computers being used for are job searches, rental unit searches, Google questions, and playing games.
"I'm happy in there," she says of the computer lab. "It reminds me of the nursing profession, serving people, and it brings me great joy."
https://www.ourplacesociety.com/wp-content/uploads/2023/01/Maree_Nu-scaled.jpg
1920
2560
Grant McKenzie
https://www.ourplacesociety.com/wp-content/uploads/2021/01/our-place-logo-green-bg.svg
Grant McKenzie
2023-01-26 09:08:55
2023-01-26 09:08:55
Maree's Story