Robert's Story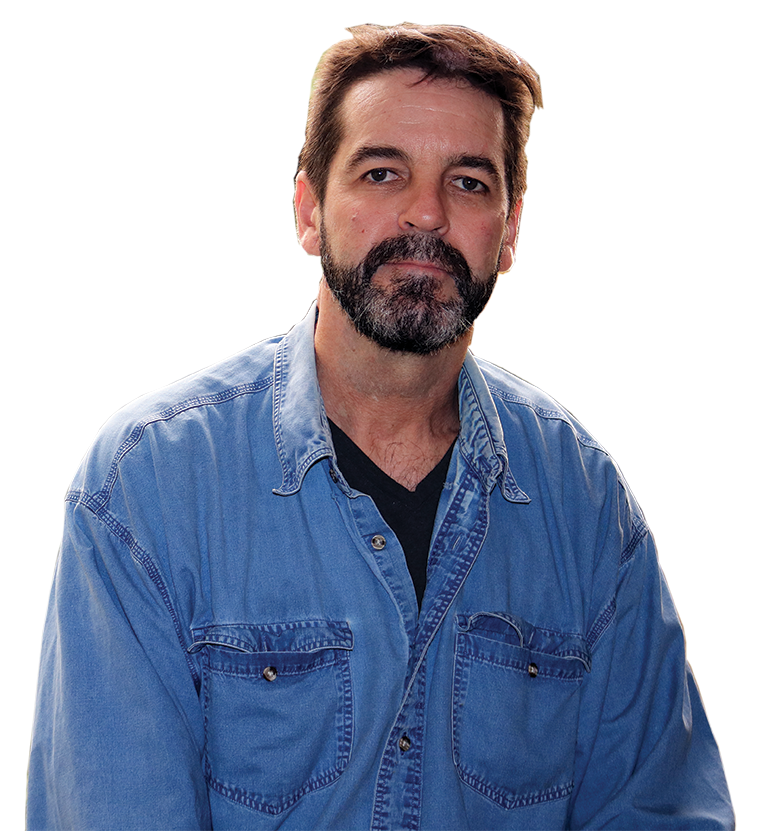 "I've got a giant hole in my heart — not being in contact with my kids, not being in touch with my family, my sister. . . ." — Robert Stewart
When men lose control of their lives, there is a tendency to hide away. Whether that's shame, embarrassment or just a heaviness that makes it difficult to hold up one's head, it can take a long time to do the only thing that truly works, and that's asking for help.
"This is the best thing that's happened to me in a long, long time," says Robert Stewart as he sits by the window of his new, ground floor room at the former Tally Ho hotel on Douglas Street in Victoria.
Robert is one of over 40 residents from Choices, the transitional shelter that Our Place operated out of the former youth custody centre in View Royal, who were recently housed in the renovated Tally Ho.
Robert's journey, however, began long before he  landed a place at Choices.
Born in Toronto, Robert had his eye on studying law enforcement, but the college bar held more appeal than the classes. After a change in disciplines, he graduated as a hardwood lumber grader.
Following college, he hitch-hiked around the country before getting married in his early 20s. His first child followed shortly thereafter.
After moving west to Tofino, Robert got a job shrimp fishing and "loved it."
When his wife became pregnant with twins, they moved to Port Alberni for more affordable housing while Robert travelled for work.
And then things began to fall apart.
"I wrecked it," he says. "I was too young and too stupid."
His marriage crumbled and one of his children, a fraternal twin, died of illness.
He brushes away the sorrow, the pain of it heavy in his eyes and in the timbre of his voice. "I don't want to dwell on it." He indicates the rooms to either side of his own.  "Everybody's got a sob story here."
Robert moved from job to job, mostly in the construction trade in Victoria, but kept up with his children through their teens. Falling behind on child custody payments, however, caused him to lose his driver's license, which limited the work he could take on, and he fell deeper into despair.
The weight of broken pride and shame made him seek isolation.
"I lived in the woods for eight years," he says. "It was cheap and convenient."
A View Royal landowner gave him and a friend permission to camp on his land until a condo development moved in. "Then, the pressure was on for us to move. Luckily, Choices took us in."
Robert admits that moving into Choices wasn't easy at first. His years in self-imposed exile made it difficult to return to a shared space filled with people.
"I had to learn how to live in a community again," he says. "And that took a big adjustment." He credits Choices coordinator Jeni Temple with helping him. "I wouldn't be here without her help. She really saved my ass."
Feeling his age, the 54-year-old knew he had to get back into the rhythm of society, and that meant swallowing his pride and asking for help.
"Jeni cut through all the red tape, and went above and beyond to help me out," he says.
With his basic needs — shelter, hygiene and nutrition —  being met at Choices, Robert was now able to get his teeth fixed, and seek medical help for a variety of ailments. When he felt healthier, he reached out to his children again.
His son, 30, and his 29-year-old daughter both live back East, so Robert has been teaching himself how to use a smart phone and a computer to stay in touch.
He's also working with a local church group to fix one of the biggest holes in his heart by purchasing a headstone for his dead child.
"That's always weighed heavy on me that I never did that for him, that I screwed that up."
As he looks around his room with its private washroom, shower, mini-fridge and microwave, he says, "I got real lucky. You've got to ask for help in this life, and I'm so glad I did."
https://www.ourplacesociety.com/wp-content/uploads/2018/05/robert_stewart.png
831
757
caorda
https://www.ourplacesociety.com/wp-content/uploads/2021/01/our-place-logo-green-bg.svg
caorda
2018-05-22 21:11:10
2021-07-12 20:48:06
Robert's Story