Rose's Story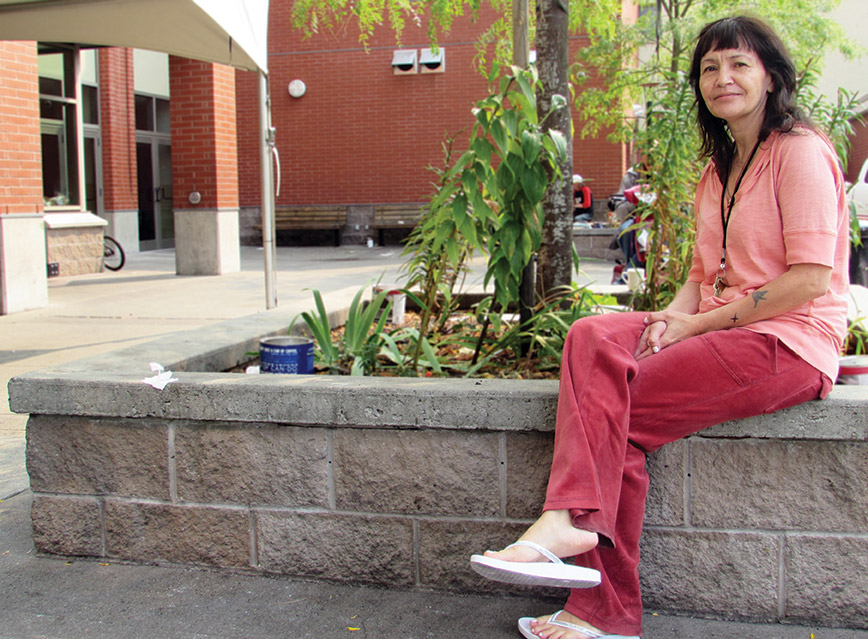 When Rose was studying to earn her Business Administration degree in Prince George, she never set her sights on future goals or dreams.
But if she had, it's unlikely that she would ever have imagined trying to live on a government allowance of $500 per month when her rent cost $495.
"I picked bottles for four years to pay the rent and buy presents for my son," says Rose. "I've never been afraid of hard work, and never believed in selling my body."
At one of her lowest points, Rose weighed only 80 pounds and had such dark rings under her eyes that people assumed she was a heroin addict.
"I was embarrassed and too shy to ask for help," she says. "It was the street community who saw that I was hurting and who reached out to me. They talked about Our Place and invited me to join them for a meal."
At first, Rose visited Our Place discreetly, keeping to herself, but too shy even to take the free clothing that is offered in our lower level.
"I didn't want to be at Our Place, to accept the generosity." She lowers her eyes and shrugs. "It was embarrassing, but unless I wanted to starve, I had to."
Rose's downfall began when she met the wrong man.
"I didn't know it at the time, but I was in a deep depression, heartbroken over another man."
By the time she discovered her new boyfriend was dangerous, it was too late.
"He wouldn't let me break it off," she says.
Against her will, Rose became pregnant and her life spiraled out of control.
"The ministry took my son away when he was six and a half," she says. "And I was diagnosed with schizophrenia."
Abandoned by everyone, Rose was forced to sell all her possessions in order to clear arrears in rent.
With assistance from the Native Friendship Centre, Rose was connected with a new psychiatrist who soon discovered that she had been misdiagnosed. Instead of schizophrenia, she was suffering from bipolar affective disorder.
On new medication to help control her dramatic mood swings, Rose moved into a new apartment in Fernwood and returned to Our Place for meals — and to volunteer.
"I wanted to give back for all the free food," she says with a smile. "So I work on the reception desk every Friday."
Rose finds that volunteering at Our Place helps to keep her grounded, and also allows her to stay connected with the street community that first opened its arms to her.
"I also wanted to know what (Executive Director) Don Evans was all about," she says, flashing another grin. "To see if he's a snake in the grass or a good guy." She pauses for dramatic effect before finishing. "He's a good guy."
As she was getting back on her feet, Rose faced her next challenge. She interviewed for a job at Thrifty Foods, and was hired.
The dilemma? She didn't have the money to buy the store uniform.
Fortunately, Our Place had recently created a Hope Fund with seed capital from the United Church Victoria Presbytery ProVision Fund. Designed to assist Our Place family members during a critical moment in their lives, the Hope Fund is there to ensure people don't miss out on life-changing opportunities.
"I approached (Outreach Manager) Jordan and told him about the job," says Rose. "And, using the Hope Fund, Our Place bought me a nice, new uniform of crisp white shirt and black pants, while WorkBC provided slip-proof shoes."
With her uniform in place, Rose is now employed part-time as a cashier.
Today, Rose's son is 19 and facing his own set of challenges. Their reunion hasn't been easy, but Rose isn't giving up.
As a young college student, Rose didn't see a need to ponder her future, but now, as a 49-year-old mother, her only dream is, "to have a healthy relationship with my son."
With any luck, and with the support of Our Place, she can make that dream come true.
https://www.ourplacesociety.com/wp-content/uploads/2014/12/rose_web.jpg
639
868
caorda
https://www.ourplacesociety.com/wp-content/uploads/2021/01/our-place-logo-green-bg.svg
caorda
2014-12-03 01:49:36
2021-07-12 20:48:23
Rose's Story