Shirley's Story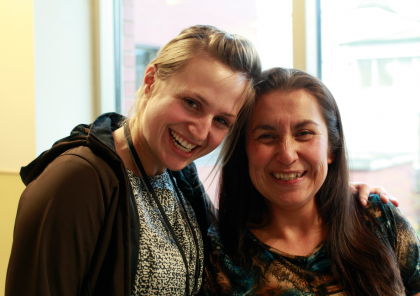 If you step into the Our Place Society building during the weekdays, you will probably see Shirley's smiling face. Here from 6:30 am until 2:30 pm everyday, Shirley is part of a small but fiercely dedicated crew that maintains the cleanliness and beauty of the Our Place facility. Shirley has been here over a year still greats virtually everyone with a smile and a cheerful hello. After sitting down with her, I realized what an unbelievable life she has had and how much strength it has taken for her to end up here, healthy and clean.
Shirley is from the Pacheedaht Band and grew up in Port Alberni. With four brothers and an abusive mother, Shirley lived through the loss of family members, lived on the street, struggled with drug and alcohol addiction, had numerous attempts at treatment and a lot of self degradation.
Shirley recounts to me her first encounter with alcohol and drunkenness, at the age of eleven while living with her abusive mother. She had stolen beer from her mother's boyfriend so she could get drunk in the bushes with her friends. This was the start of a long struggle with alcohol addiction. While Shirley used drugs throughout her life as well, she now recognizes booze as her biggest weakness.
While she lived with her mother for her childhood, she does not retain any happy memories with her. "I remember being ten years old and feeling like, 'why doesn't my mother just kill me, I'm pretty much dead after she beats me,'" Shirley says while describing how she had virtually no support growing up, "Why doesn't she just get it over with and kill us all, because she doesn't want us."
After running away from home at fifteen years old, Shirley's life continued to spiral downward. Over the next few years, she was drinking constantly, and using drugs often. To survive, she learned to go to men to get what she wanted, whether it was drugs or just a place to stay for the night.
Having tried treatment numerous times, one year ago, she decided to give it one last shot, with the encouragement of her partner who had supported her through the last few years of her addiction. "I almost turned back when I was heading to the treatment centre. When I eventually got there, I was already coming down. I was seeing things and thought I was hearing things. I was just a disaster and of course, I'm going into anxiety big time, I'm thinking my veins are popping. "
Treatment took awhile. Shirley admits that she was angry. She blamed other people for what had happened to her. But over time, she began to absorb what the counselors were saying, forgive herself and others in her life and begin to move on to a new phase.  The trauma and loss in her life has been enormous. "My broken marriage, my dad who died of alcoholism. One brother died from a drug overdose and another brother died of AIDS. My other two brothers have died as well, of accidental deaths." Shirley thought she had nothing to live for, but once she allowed herself to be integrated into the treatment, she realized she had a lot, "I have my children and my grandchildren and my family is growing."
Returning to Victoria after her stay at the treatment centre on the mainland, Shirley applied for a job at Our Place Society. "I didn't think I was going to get hired because of my past. But Bob the Our Place Manager of Facilities gave me a chance and he says he's glad he did." She attributes the second chance to the grace of God, but if you have met Shirley, you know it's also a matter of her overwhelming inner strength, positive energy and generous personality.
About six months after she became sober, disaster struck. Shirley suffered the loss of her youngest grandson- a five month old boy – to Sudden Infant Death Syndrome. When she was able to come through that tragedy and stay clean and supportive to her family, Shirley knew she could make it through anything.
Shirley has found a place in her life. She lives with her partner who stayed with her through all her struggles, she cares for her grandchildren and is doing everything she can to help them stay out of what she went through. And she has a community here at Our Place Society. "I am giving back here at Our Place. I am looking after people and telling them my story. People will ask me how I work here and go home and not drink or use drugs anymore and I say, it's because I work by my higher power. I believe in my higher power."
https://www.ourplacesociety.com/wp-content/uploads/2014/07/shirley-and-emily-420x296-1.png
296
420
caorda
https://www.ourplacesociety.com/wp-content/uploads/2021/01/our-place-logo-green-bg.svg
caorda
2014-07-09 18:11:23
2021-07-12 20:48:23
Shirley's Story