Tony's Story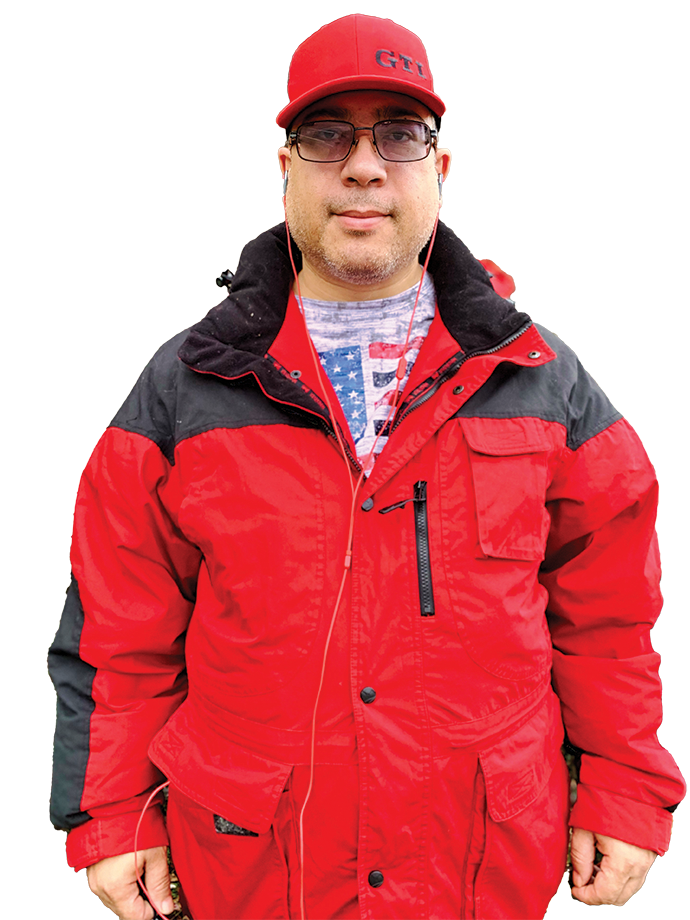 The one word that has followed Tony around for his entire life is 'Trouble'.
He doesn't know if his birth parents loved him — or even wanted him. He only knows that he was given up for adoption at 21/2 years old. That abandonment by his birth family ingrained in him that even at such a young age, he was too much to handle.
"I was a bit of a problem child," he says. "Acting out at a young age, temper tantrums, things like that."
To this day, Tony — who is about to celebrate his 53rd birthday — has never had any contact with his birth mother or father.
Shortly after being adopted by a white family with three older girls, Tony and a newly-adopted younger brother of only six months moved from Toronto to North Vancouver.
The nurse who was involved in his adoption became his godmother and they are still in contact to this day.
"I never missed out on love," he says of his adoptive family. "It's just you realize there's something . . . that's not there."
Despite the warmth and acceptance of his new family, Tony continued to struggle with impulse control and anger — two traits that would come to define his life.
"I went through a lot of schools because of my behaviour," he says. "My mum took me to doctors and psychiatrists. They all had different theories about why my behaviour was so erratic all the time. They put me on special diets, no preservatives, no sugar, but it never seemed to help."
School was terrible for Tony, despite being clever enough that he skipped from Grade 6 to Grade 8, and then bypassed Grade 9 to Grade 10. Unfortunately, skipping grades meant Tony was the youngest in class. And when he was picked on, he fought back.
"I was kicked out of seven or eight different high schools for fighting or being aggressive. It just got out of control."
Tony ended up leaving school at 14, and his aggression also damaged his home life. He was placed in foster homes and group homes, but became a constant runaway.
"The homes couldn't cope with me," he says.
Tony was placed on income assistance at 15. "They gave me a cheque and said 'okay, now you're on your own'."
Back on the streets, Tony started hanging out with a "pretty rough group of people" and it wasn't long before he was doing "most of the things you do on the street to survive," which included committing serious crimes and taking hard drugs.
He was first incarcerated at 16. Then, at 17, he was charged with murder after confronting a man he says had raped and mutilated a friend. The man pulled a gun and Tony struck him in the throat, resulting in death.
Tony was sentenced to Life-10, which meant he was only eligible for parole after serving 10 years. After serving nine years, however, Tony was charged with attempted murder of a fellow inmate. He received an additional six years.
After two years in the SHU, Canada's highest security prison, Tony was transferred to Donnacona, a maximum-security prison with a different vision of prisoner reform.
"Compared to where I had been, it was heaven," he says. "It gave me focus."
Tony began to get serious about drawing, even selling his art to fellow inmates. But then a cellmate told him the tattoo artists were making "three or four times" more off his drawings than he was. So Tony went to a tatooist who only had five months left in his sentence and struck a deal. Tony would provide the artwork if the tatooist taught him how to do tattoos.
Suddenly, Tony was building relationships and finding a new purpose in life. "My work started to be known."
Tony's anger issues, however, had never been resolved, and a confrontation with an inmate send him back to the SHU.
Upon his return to the Super-Max, a psychologist took an interest and decided to send Tony to a psychiatric hospital for an assessment. It was there that he was finally diagnosed with both Bipolor and Schizoaffective disorder.
With proper medication and a two-year hospital stay, Tony's life began to change.
"They saved my life," he says. "My behaviour changed. I was able to cope and reason properly. Since that time, I haven't had one physical altercation with anybody."
Tony made it down to a minimum security prison, and six months ago, he was released to a half-way house after serving 35 years.
"Nobody ever thought I would get out of prison," he says.
While looking for work, Tony spotted the Our WorkPlace sign — Our Place's work placement program — and went in to see what it was all about.
Our Place just happened to be looking for a new member of its custodial team, and Tony quickly snatched it up.
Coming up on his three-month work anniversay, Tony is thinking about the future for the very first time.
https://www.ourplacesociety.com/wp-content/uploads/2021/02/tony.png
920
690
caorda
https://www.ourplacesociety.com/wp-content/uploads/2021/01/our-place-logo-green-bg.svg
caorda
2021-02-16 18:54:24
2021-07-12 20:47:50
Tony's Story