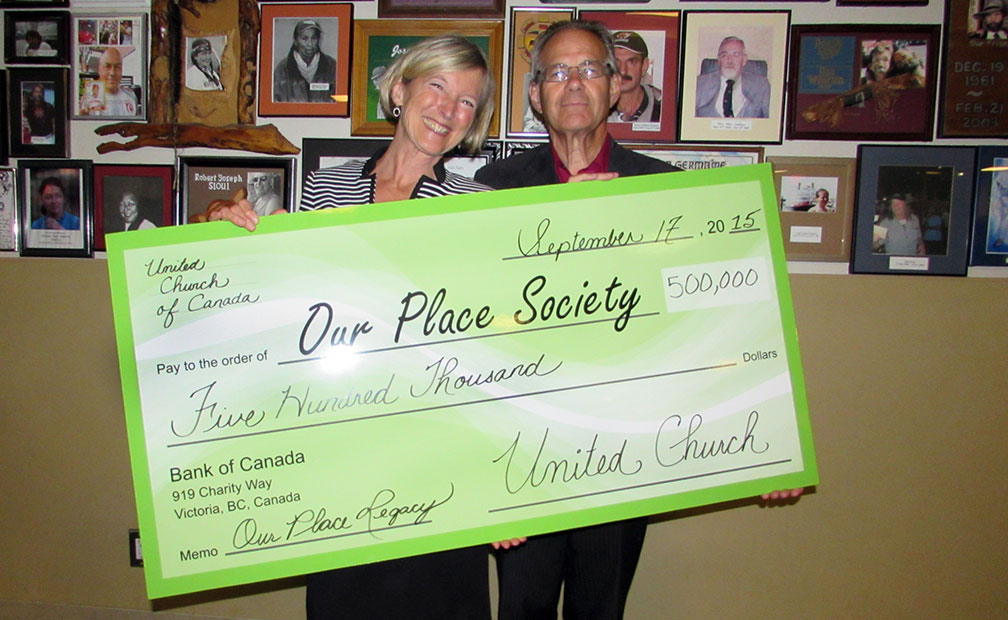 United Church creates Our Place legacy
$500,000 donation will change lives for years to come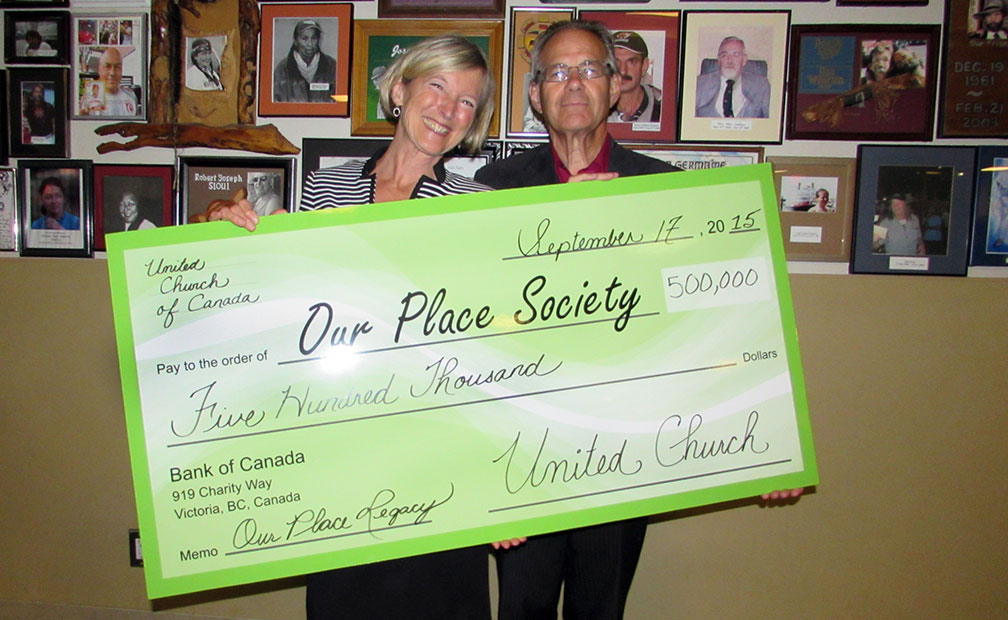 VICTORIA, B.C. – To ensure that help is always available to the most vulnerable in the Greater Victoria region, the United Church of Canada is donating $500,000 to create a legacy fund for Our Place.
"Poverty is a complex issue that may never be completely solved," says Don Evans, executive director of Our Place Society. "But this legacy fund will generate income for years to come. And that is a gift that will change many lives."
The donation was a joint partnership between Victoria Presbytery and BC Conference of the United Church, both of which have a long-standing relationship with Our Place Society.
"Our Place has a huge heart for those in need in Victoria," says Rev. Doug Goodwin, executive secretary, BC Conference. "Without losing that heart, it is looking to the future so it can be a place of caring and hands-on assistance as long as it is needed. United Church folk throughout the province are pleased to be able to lend our support in creating a financial legacy, which can provide a strong foundation for heart-driven work for years to come."
The donation will be placed into a special legacy fund with the income generated being used to help fund Our Place operations, programs and services.
"I have no doubt this substantial act of faith will inspire others in the community to help Our Place's ministry grow and transform lives," says Evans. "The ability to designate legacy gifts to a named fund will be appealing to many."
The cheque was presented to Our Place Society at its Annual General Meeting on Thurs., Sept. 17 by Rev. Bill Cantelon, past chair of Victoria Presbytery.
To make a contribution or designate a bequest to the Our Place legacy fund, please contact Laura Walsh, director of development, at 250-413-3161.
Our Place is a unique inner-city community centre serving Greater Victoria's most vulnerable: working poor, impoverished elderly, mentally and physically challenged, addicted and the homeless. Individuals and businesses provide the majority of financial support for its programs and services. Our Place provides over 1,500 meals per day, hot showers, education, job skills, free clothing, counseling and outreach services, plus 45 transitional housing units. Most importantly, it provides a sense of hope and belonging to our neighbours in need.