Why I'm Proud of Pride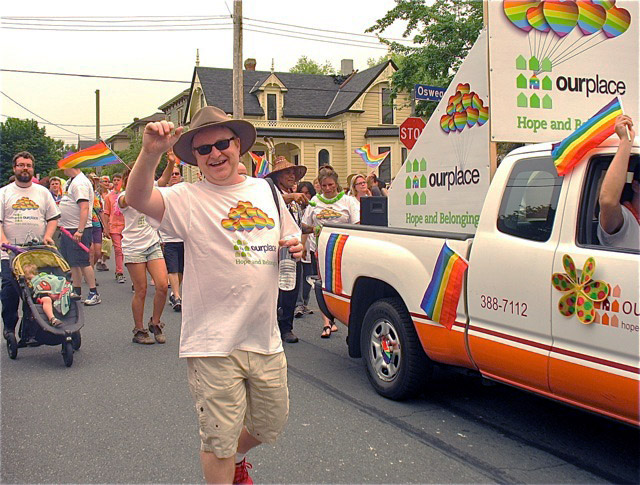 One of my proudest moments of participating in the Victoria Pride Parade was when a young, pre-op transgender woman said that she never felt brave enough to walk in the parade until the day she marched with the staff and family of Our Place.
It said a lot about this unique downtown centre for our community's most vulnerable that this woman felt included in Our Place's definition of family. It is one thing to preach hope and belonging, but quite another to live it.
From the outside, Our Place is viewed through a variety of lenses. Some see it as a soup kitchen for those experiencing poverty; others see it as a shelter for the city's homeless; some view it as a sanctuary where they can rest without judgment; others as one of the only places to receive a hot meal and a warm shower; many come for its over 60 programs and services that cover everything from education, art and music to health care and employment. To those who don't rely on it, it may even be viewed as a blight. But to those who need it, Our Place is often the difference between life and death.
There are very few people who walk into Our Place's Drop-In who don't carry stories that break my heart. Their daily struggles have roots that run deep in abuse, neglect, mental illness, abandonment and addiction. I admit that, in my Scottish parlance, I can be a "big softie", but how anyone can keep their emotional armor from being scratched, dented and broken by the struggles I witness on a daily basis is beyond me.
When it comes to poverty, there are experiences I identify with. I have witnessed the scars of addiction, and the heavy penalty and unfairness of mental illness. But the burden of feeling trapped in your own body, in a gender you don't identify with, is something I will never know. The beauty, however, is that I don't need to. I only have to accept those struggling with LGBTQ issues as my fellow human beings; as people who need and deserve the same compassion, kindness, acceptance and love as everyone else.
When I march in the Pride parade, it is simply to show that I am human, that I accept all my flaws and mistakes, all my strengths and virtues, and that, like everyone around me, I am so proud to be someone worth knowing, someone worthy of love.
When the Our Place contingent drifts along that parade route with our home-made signs, in colourful T-shirts designed in-house, take a look at the faces. You will not only witness an incredible kaleidoscope of people from every walk of life, you will witness a family.
And if you need a family to walk with – even if just for the parade – please feel free to join us.
Grant McKenzie
Director of Communications
Our Place Society
https://www.ourplacesociety.com/wp-content/uploads/2017/08/grant.jpg
485
640
caorda
https://www.ourplacesociety.com/wp-content/uploads/2021/01/our-place-logo-green-bg.svg
caorda
2017-08-01 20:54:30
2021-07-12 20:48:07
Why I'm Proud of Pride