Jerome's Story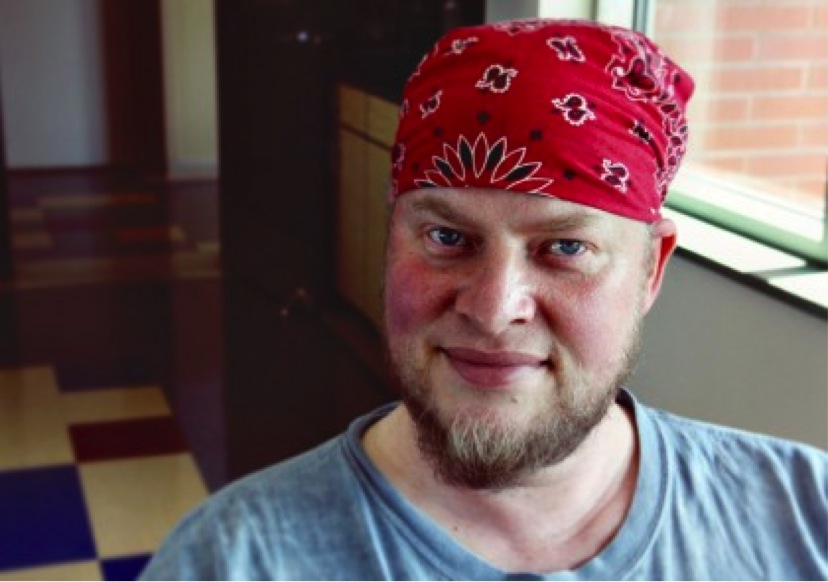 Jerome has moved into stable housing for the first time in years. He is three years clean and faces this transition with confidence, despite the fact that changes like this used to terrify him. "I've experienced tons of abandonment in similar situations," he explains. But this time it's different. "Everything I've done this time, I've worked very hard for. I've worked to connect with people, to build relationships – regardless of whether they're professional or not – so that I can have a consistent foundation of support. I'm in a much better place now."
It wasn't always like this. Jerome's life shifted for the worse in November 2010, when the recovery house he had been living in for three months kicked him out. He had nowhere to go. One and a half years clean from a long-held addiction, Jerome was truly homeless for the first time in his life. He was lonely, scared, and on the street. To illustrate this feeling, he asks me to imagine feeling totally alone and completely deserted. "Times that feeling by ten," he says poignantly. Not sure where else to go, Jerome began coming to Our Place more frequently for daily meals, hygiene, and computer access. He was trying to hold it together while in and out of shelters, taking college courses, and attending recovery meetings. But life was getting hard.
"I was starting to really feel what it was like to be homeless," he says. "I'd been kicked out of recovery housing, I kept losing my bed at the shelter, and I knew that everywhere I slept would eventually meet an end." In the face of constant uncertainty, Jerome craved stability – but couldn't find it anywhere. To make things worse, at the end of February 2011, his 30-day stay at the shelter was coming up. Facing the cold reality of sleeping outside, Jerome was worried about slipping back into old patterns of addiction.
Like many others with drug and alcohol addiction, Jerome's addiction was sparked by childhood trauma. He was abused when he was thirteen and this trauma shaped his early adulthood. He says it tainted his ability to trust and connect with others – until he decided to hook up with the Victoria Men's Trauma Centre. Here he connected with counselors and others who had experienced similar trauma. These counselors, as well as his recovery and shelter communities, all encouraged Jerome to explore different avenues of recovery.  "Part of my journey has been taking back the power that I lost at thirteen," says Jerome. He is reclaiming his past by building a healthy foundation of relationships for his future.
Jerome says that he has learned a lot about the basic human need to be understood: a feeling of belonging that he has struggled with for many years. "I started taking courses in Empathetic Communication and I took great interest in it," says Jerome. "So there I was: homeless, taking two courses, doing trauma therapy, going to recovery meetings, and trying to get a bed every night." He eventually asked a worker at the shelter for help. After listening to Jerome's fears, this worker connected him with more stable, transitional housing.
Throughout this time, Jerome came to Our Place regularly. "After a while, I started to realize that there was more here than what you might think," he says. "I could go lots of places for food or hygiene, so I asked myself: why did I come here so often?"
Jerome says that Our Place played a significant and unique role in his journey of recovery and transition. "Outreach Workers like Jordan and Joel always had helpful suggestions," he says. "But more important was the fact that they would just come talk to me." Having experienced extraordinary abandonment, Jerome rarely felt safe with others; he had been taught to trust no one. Our Place gave him an opportunity to re-write that story and feel safe in meaningful friendship. Besides offering Jerome with daily showers, meals, and access to computers, Our Place provided Jerome with a sense that he was understood and belonged somewhere. "Our Place is the place where people have taken the time to get to know me," he says. "Somebody was actually willing to care."
Two falls ago, Jerome wandered into Our Place without knowing where he'd sleep that night. "Now I've got more things in my place right now than I've ever experienced in my lifetime!" he says, listing with gratitude things that most of us would consider common. "I have a bed. I have a desk. I have a kitchen table." With that, Jerome says that his relationship with Our Place will shift. Now that he's housed, Jerome says he's excited to come back to Our Place to give instead of receive. "This is part of my recovery process," he says. "It's the idea that I've been given so much, and now it's time to give back. Everyone deserves a break, just like I had here."
"If Our Place wasn't a part of my life," he says, "I would feel it. I would really feel it. To quantify what this place has done? Who knows? But to qualify it? This place has filled me up."
https://www.ourplacesociety.com/wp-content/uploads/2014/07/jerome.jpg
582
828
caorda
https://www.ourplacesociety.com/wp-content/uploads/2021/01/our-place-logo-green-bg.svg
caorda
2014-07-09 18:11:18
2021-07-12 20:48:23
Jerome's Story